Bagian 2 dari 2 tulisan
Pemetaan Skill dan Investasi terhadap SDM.
Indikator utama
Indikator 9
| | |
| --- | --- |
| Karyawan belajar dan berkembang secara efektif. | Pemetaan skills adalah salah satu metode untuk merecord aktivitas karyawan. |
BUKTI :
Karyawan baru, dapat  memberitahukan bahwa mereka telah mendapatkan induksi / orientasi  yang efektif.
Organisasi mampu menampilkan bahwa karyawan mampu belajar dan mengembangkan dirinya secara efektif.
Karyawan memahami alasan mereka harus mengikuti kegiatan pelatihan dan pengembangan dan apa yang diharapkan organisasi kepada mereka.
Karyawan mampu memberikan contoh dari kegiatan pengembangan yang pernah dilakukan. (baik dari segi knowledge, skills, and attitude).
Pengembangan karyawan  diutamakan yang  selaras dengan kualifikasi atau standard eksternal yang sesuai (atau keduanya).
Indikator Tambahan
Indikator 2
| | |
| --- | --- |
| Karyawan dianjurkan untuk meningkatkan performa masing-masing dan juga orang lain. | Sangat penting bagi karyawan untuk meninjau pemetaan skills sehingga mereka merasa didorong untuk berpartisipasi. |
Indikator 6
Pengembangan karyawan sejalan dengan tujuan dan goal organisasi.
Matriks keterampilan membantu untuk meninjau kebutuhan pelatihan pada tingkat individu maupun tim. Jika Anda menyertakan jumlah maksimum peserta pelatihan di akhir kolom matriks pada tiap keahlian, maka Anda telah menunjukkan kebutuhan organisasi.

Matriks keterampilan membantu menetapkan tujuan untuk "on the job" training, sebagaimana Anda harus membuktikan kompetensi sehingga mendapatkan tanda kotak yang disilang (menandakan Anda sudah terlatih).
Contoh Pemetaan dengan Skills Matrix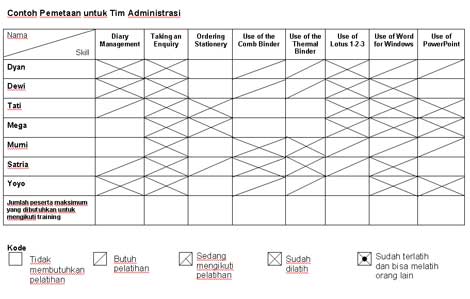 Kontributor Penterjemah: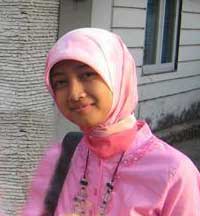 Whidha Yunis Dian. Dalam usianya masih relatif muda, Dyan mempunyai pengalaman kerja dan aktivitas yang cukup intensif di bidang human resources dan development. Dimulai pada almamaternya sendiri, Pondok Pesantren Gontor Putri dan STT STIKMA Internasional Malang, sebagai staff pengajar dan sebagai pendamping pratikum mahasiswa, Dyan juga sering terlibat dalam berbagai proyek sebagai trainer, pembuatan modul training, sebagai training administrator, training data analyse dan panitia pelaksana pada berbagai proyek-proyek training dan pengembangan yang diadakan oleh sekolah, perguruan tinggi, instansi swasta dan pemerintah. Saat ini Dyan bekerja sebagai Staff Admin & Pengolahan Data Dept. Training & Development pada salah satu perusahaan manufacturing di Pasuruan Jawa Timur.
.