Saya mendapatkan kosa kata baru beberapa hari yang lalu dari seorang professor yang gemar menggunakan peribahasa untuk menggambarkan karakter orang. Kosa kata tersebut adalah gaden insui.
Kata gaden insui yang dalam bahasa Jepang ditulis seperti ini 我田引水 adalah perkataan untuk menggambarkan orang yang hanya melakukan sesuatu untuk hak miliknya, keluarganya, kampungnya saja. Kata "gaden" artinya "sawah kita", sedangkan kata "insui" adalah "mengalirkan air". Jadi secara gampangnya artinya adalah "mengalirkan air hanya ke sawah kita".
Professor menceritakan seseorang yang dikenalnya bahwa orang tersebut hanya menyalurkan semua bantuan dan menggiring tamu-tamu Jepang agar bekunjung ke daerahnya saja, padahal dia bertugas untuk menangani pendidikan se-provinsi. Professor mulai tidak suka dengan tindakan tersebut dan menyatakan keinginannya untuk melihat daerah-daerah lain, tapi dia tak bisa menyatakannya dengan terus terang.
Ya, orang-orang yang gaden insui bagi warga kampungnya, dia akan dielu-elukan, tetapi akan dicibir oleh orang-orang yang ada di luar kampungnya. Permasalahannya tidak akan mengerucut jika apa yang diberikannya kepada kampungnya itu bukan menjadi hak bersama penduduk kampung yang lain. Apabila misalnya seorang yang sudah berhasil di kota membawa pulang uangnya ke desa, lalu membangun sekolah dengan uang tersebut, maka tidak akan ada yang merasa sakit hati. Tetapi apabila seseorang membawa harta/dana milik rakyat banyak, khusus ke desanya maka sama saja dia sedang menanam kebencian baru di antara rakyat yang dipimpinnya.
Penggambaran lain adalah sama seperti petani-petani yang memiliki petak-petak sawah yang dialiri air irigasi. Jika dia tak dewasa, maka air tersebut akan dialirkannya ke sawahnya saja, dan membuat sawah-sawah sekitar kekurangan air.
Tindakan ini tidak akan membawa kesuburan padi di petakan sawah yang dimilikinya, sebab sawah yang kekeringan akan menyebabkan munculnya penyakit padi yang baru yang bisa menyerang padi di petak yang dimilikinya.
Sama saja, bantuan yang hanya diberikan kepada kampung halaman saja akan membuat kecemburuan sosial dan merupakan bibit-bibit konflik antar daerah.
Maka lebih baik tidak menjadi gaden insui, lalu mempertajam kompetisi antar daerah, tetapi mari menjadi orang yang dewasa berfikir untuk kemajuan bersama.
Artikel Asli: Apakah anda termasuk GADEN INSUI?
Kontributor: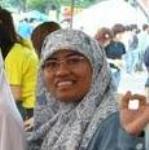 Murni Ramli. Lulusan Institut Pertanian Bogor ini pernah berprofesi sebagai tenaga pendidik di dua sekolah berasrama (boarding school) di Bogor. Dalam kesibukannya saat ini sebagai Kandidat Doctor (PhD) di bidang Manajemen Sekolah di Graduate School of Education and Human Development, Nagoya University, Japan, Beliau sangat aktif menulis tentang informasi dan pandangannya seputar manajemen & dunia pendidikan serta berbagai informasi menarik tentang negeri, budaya dan pandangan orang-orang Jepang. Pemilik blog "Berguru" ini juga sangat menyenangi dunia Penelitian dan Pengembangan serta mempelajari berbagai bahasa sehingga bisa menguasainya dengan cukup baik, di antaranya: Bahasa Inggris, Jepang, Arab, Jawa, Bugis dan sedikit Bahasa Sunda.